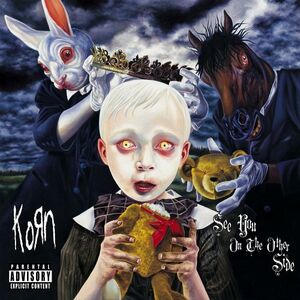 See You on the Other Side is the seventh studio album by Korn. It was released on December 6, 2005, by Virgin Records. It is their first album without long-time guitarist Brian "Head" Welch and the last album with long-time drummer David Silveria. The working title was Souvenir of Sadness. The album was first certified gold on January 12, 2006 and subsequent platinum record certification was awarded on March 16, 2006.
Musical and lyrical themes
Edit
With regards to the album's musical direction, Jonathan Davis commented,
| | |
| --- | --- |
| " | It's funky, it's heavy, it's dark and sometimes, industrial-tinged. Working with so many different people and everything, it's made it out to be a really well-rounded album of a lot of different things. It's definitely Korn, it's definitely groove-oriented. But it's our most experimental album to date. We're very excited. We're all sitting around, when we listen to it, looking at each other going, 'I can't believe that's us.' I think people are really going to dig it. |
Critical reception
Edit
On average, See You on the Other Side generally received much warmer critical reception than the previous studio album, Take a Look in the Mirror, scoring a Metacritic average of 64. Reviewers appreciated the band's desire to experiment and noted that the album combined well their signature sound with the freshness that producers The Matrix and Atticus Ross added to the band's sound. Commercially, the album was successful, proving that Korn can still remain on the top of the charts, staying in the top 100 of the Billboard 200 pop albums chart for 34 straight weeks.
Track Listing
Edit
This album has been released with the Copy Control protection system in some regions.
The album contains 14 to 16 tracks depending on the version purchased, and a special edition of the album contains 20 to 22 tracks plus two live performance videos.
"Twisted Transistor" – 4:12
"Politics" – 3:17
"Hypocrites" – 3:50
"Souvenir" – 3:50
"10 Or A 2-Way" – 4:41
"Throw Me Away" – 4:41
"Love Song" – 4:19
"Open Up" – 6:15
"Coming Undone" – 3:20
"Getting Off" – 3:25
"Liar" – 4:14
"For No One" – 3:37
"Seen It All" – 6:20
"Tearjerker" - 5:05
Later prints of the album had the song "Twisted Transistor" at a length of 3:08, the 1:04 that was removed was in the pre-gap.
Bonus disc
Edit
"It's Me Again" – 3:35
"Eaten Up Inside" – 3:18
"Last Legal Drug (Le Petit Mort)" – 5:15
"Twisted Transistor" (Dante Ross Mix) – 3:29
"Twisted Transistor" (Dummies Club Mix) – 7:53

Multimedia tracks: "Twisted Transistor" and "Hypocrites" (live, recorded in Luzhniki Arena in Moscow, Russia on September 22, 2005)
"Too Late I'm Dead" - 3:27
"Inside Out" - 3:25
"Appears" - 3:00
"I'm The One" - 2:47
Three more bonus tracks, that are not featured on the regular release of the album, "Too Late I'm Dead," "Inside Out," and "Appears" are available on some international releases of the album, or on the CD singles.
Community content is available under
CC-BY-SA
unless otherwise noted.