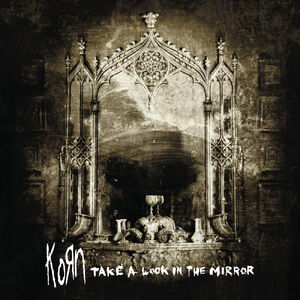 Take a Look in the Mirror is the sixth album by the nu metal band Korn. It is the last studio album to feature the original lineup of Korn.
Album Information
Edit
The album debuted at #19 and peaked at #9, due to the release date of the album being pushed up to a Friday, with less sales than if it was released on the standard Tuesday.Within its songs, "Did My Time" was previously released as a CD single for the movie Lara Croft Tomb Raider: The Cradle of Life, and "Right Now" was accompanied by a provocative cartoon video animated by Spike and Mike. This is also the band's last full studio album featuring Brian "Head" Welch. The album is followed by a long silence before a live cover of Metallica's "One" starts playing. The album was also released in a "clean" version which utilized backmasking as well as growling in place of profanity. The band has admitted in interviews to writing this album at somewhat of a rushed pace, due to the sales of Untouchables not reaching the heights they were expected, and having to write with the time restraint of being on that summer's Ozzfest tour.
Musical and Lyrical Themes
Edit
Take a Look in the Mirror marks Korn's attempt to return to a more aggressive sound as featured on their earlier albums, with guitarists Brian "Head" Welch and James "Munky" Shaffer mostly utilizing thick, heavy distortion and the occasional clean tones for contrast. The album features elements of Alternative metal and a reworking and re-recording of the track "Alive", the first song the band wrote, which got Davis into the band. The song had previously only been released on the band's first demo, Neidermeyer's Mind. Also of note is the song "Play Me", which features rapper Nas, making Take a Look in the Mirror the first Korn album since Follow the Leader to feature such a collaboration. Furthermore, Davis plays bagpipes on "Let's Do This Now", marking the return of a tradition that has, to date, only been absent on Untouchables.
Track Listing
Edit
"Right Now" – 3:10
"Break Some Off" – 2:35
"Counting on Me" – 4:49
"Here It Comes Again" – 3:33
"Deep Inside" – 2:46
"Did My Time" – 4:04
"Everything I've Known" – 3:34
"Play Me" (Featuring Nas) – 3:21
"Alive" – 4:30
"Let's Do This Now" – 3:18
"I'm Done" – 3:23
"Y'All Want a Single" – 3:17
"When Will This End" – 14:24
When Will This End ends at 3:39. At 9:52 a live cover of Metallica's "One" (performed on MTV Icon: Metallica) begins.
Community content is available under
CC-BY-SA
unless otherwise noted.