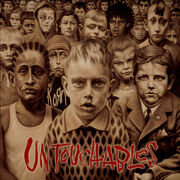 Untouchables is the fifth album by Korn.
The album is known for its sound different than Korn's classic style, more so than Issues. While some songs such as "Here to Stay" and "Embrace" kept with nu metal, others such as "Hating" and "Bottled Up Inside" feature more mellow, atmospheric sections. Most notable are "Alone I Break", which is a suicidal power ballad, and is the least aggressive track on the album, and "Wake Up Hate", which features an industrial sound, much different than what Korn is known for.
The album was also released in a clean version, with all profanities censored or distorted. However, "Beat It Upright" was taken off due to the explicit nature of the lyrics' subject matter.
Track Listing
Edit
Full version track listing
Edit
"Here to Stay" - 4:32
"Make Believe" - 4:37
"Blame" - 3:51
"Hollow Life" - 4:09
"Bottled Up Inside" - 4:00
"Thoughtless" - 4:33
"Hating" - 5:10
"One More Time" - 4:40
"Alone I Break" - 4:17
"Embrace" - 4:27
"Beat It Upright" - 4:15
"Wake Up Hate" - 3:13
"I'm Hiding" - 3:57
"No One's There" - 5:06
"Here to Stay" (T Ray's Mix) - 4:18
"Here to Stay" (Video Version/Multimedia Track)
This is the first Korn album in which Jonathan Davis did not play bagpipes in any song.
Community content is available under
CC-BY-SA
unless otherwise noted.